All fire equipment is required to be serviced at regular intervals.

• Fire Extinguishers are required to be serviced on an annual basis.
• Fire Alarm Systems are required to be serviced at least twice annually. (to BS 5839)
• Emergency Lights are required to be serviced at least twice annually. (to BS 5266)

Once an assessment of your existing fire equipment has been made, or once fire equipment has been installed, an agreement will be reached with yourself as to the frequency and cost of the required servicing (we generally stick to the minimum requirement as above).
Without regular servicing and maintenance, fire protection equipment will deteriorate.

The servicing of your fire fighting equipment is an essential part in ensuring that that equipment works first time, every time.
Please contact us for a free quotation on the maintenance of your Fire Extinguishers, Fire Alarm or Emergency Lighting.
Water
The Water extinguisher is still one of the most useful and cost-effective ways to put out free-burning materials such as paper, wood and fabrics. Never use on fires involving flammable liquids, nor live electrical equipment. Water Fire Extinguishers are suitable for class A fires, involving solid materials such as wood, paper, straw, textiles, coal etc.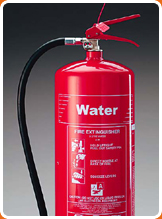 Foam AFFF
Foam fire extinguishers are used in Class A (wood, paper, and textile type fires), and for class B fires, caused by the combustion of liquids and materials that liquify such as petrol, oils, fats, paints, tar etc. Spray foam extinguishers provide a fast, powerful means of tackling flammable liquids. The foam forms a seal over the surface to prevent re-ignition. Ideal for multi-risk usage and safe to use in close proximity to electrical equipment.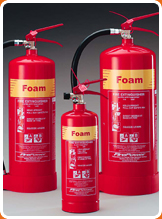 CO2
For electrical fires or flammable liquids CO2 is ideal. Harmless to electrical equipment making it perfect for offices and workshops. These extinguishers have non-conductive, anti-static horns. Easy to use, no mess, and very reliable. Should not be used within confined space.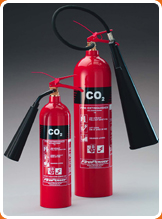 Powder
Dry Powder is a highly versatile medium for tackling most types of fires. Extremely effective on electrical hazards, flammable liquids and gases, making this ideal for vehicle fires. Not recommended for use in kitchens or confined spaces.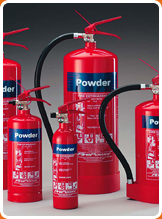 Wet Chemical
An extremely effective extinguisher designed specifically for fires involving cooking oils and fats. The chemical knocks out the flames, cools the burning oil and seals the surface preventing re-ignition. The extinguisher is easy to use, producing a gentle but highly effective spray which helps prevent hot oil splashing on the user.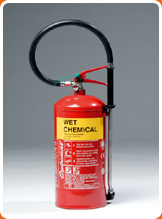 Blanket
Used for smothering and extinguishing fires in homes, kitchens, schools, offices and factories.